How do I know if my registration is complete?
When do we receive team information?
Team information, practice times, and a complete game schedule will be sent to you via Email 10-14 days prior to the start of the season. Make sure to check your junk mail folder if you don't receive any information, or Email us..
We have a lot of children to place on teams, field times to secure, coaches to coordinate, and we appreciate your patience while we build our program each season.  
To register, you MUST complete the registration form and liability waiver (Step 1) on the registration page. Make sure to hit the BLUE submit button to send your form. Your PayPal/Credit Card receipt serves as confirmation that your child is registered.

Once you hit the blue submit button, you should see this message in the form box which says "Your response has been recorded."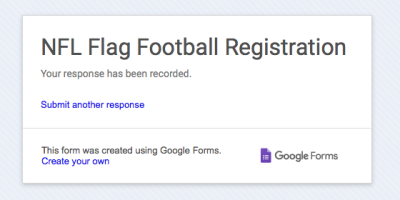 Where are the parks located?
We use all four of the neighborhood parks in Castle Pines including:  Elk Ridge Park, Retreat Park, Daniels Gate Park, and Coyote Ridge Park. If you need a map or driving directions to the parks, please
contact us
.
Can my child play on a team with his/her friend?
After registering, will I receive an email confirmation?
Absolutely. We do our best to put children on a team with neighbors and friends. That's what makes our program so much fun. Make sure to list the friend you with to play with on the registration form.
If a team is full, we cannot make any changes or add your friend to the roster, so be sure to list their name when you register. Requests cannot be guaranteed, but 99% of the time, we make it work.
No. The ONLY email you should receive is from PayPal. If you did NOT receive a receipt from PayPal via Email, then your child is not registered. If we do not receive a registration form and waiver, your fee will be refunded. We cannot hold a spot in our program without a completed registration form AND a payment.
 
What if there is a day my child cannot practice?
Where can we find the game schedule?
When registering your child, please indicate any potential schedule conflicts in the comment section of the registration form. We do our best to meet your requests, but cannot make any guarantees since our coaches pick the practice times that work best for their schedules. If you have a conflict, please sure to let us know BEFORE we build our teams. (i.e. "My child cannot practice on Wednesdays.") Once team information is sent out, we cannot make any changes or move your child to another team. Please see our refund policy at the bottom of this page.
Game schedules are also sent out with the team information in Emails. To protect our children, we do not post or publish this information on our website. Any game schedules posted online are password protected.  If you need a copy of your game schedule, please ​
contact us.
Are teams allowed to have extra practices before the season, or in addition to practices already scheduled by the league?
What equipment will my child need?
Absolutely not. Due to insurance purposes and liability risks, ALL practices must begin at the start of the season and be coordinated and arranged by Castle Pines Athletics exclusively.
No exceptions. Teams and coaches not adhering to this policy will be removed from the program and no refunds will be given.
Team information is distributed via Email 10-14 days prior to the start of the season. A complete Parent Information Flyer will be included in this email. Please make sure to review this information to determine what equipment (i.e. shin guards, mouth guard, cleats, etc.) are required for your player. This flyer usually contains coupons and other helpful information about the season.
What is your refund policy?
If the weather is suspect, how do we know if games or practice are cancelled?
Coaches typically make the call as close to practice or game time as possible, so check your email often to see if there is a cancellation due to weather. The Colorado weather can change literally in a matter of minutes, so be prepared to pick up your child if bad weather arrives during practice or games. Make-up games are held at the end of each season. We do not give refunds for incliment weather. Instead, we do our best to make up all the games originally listed on the schedule.